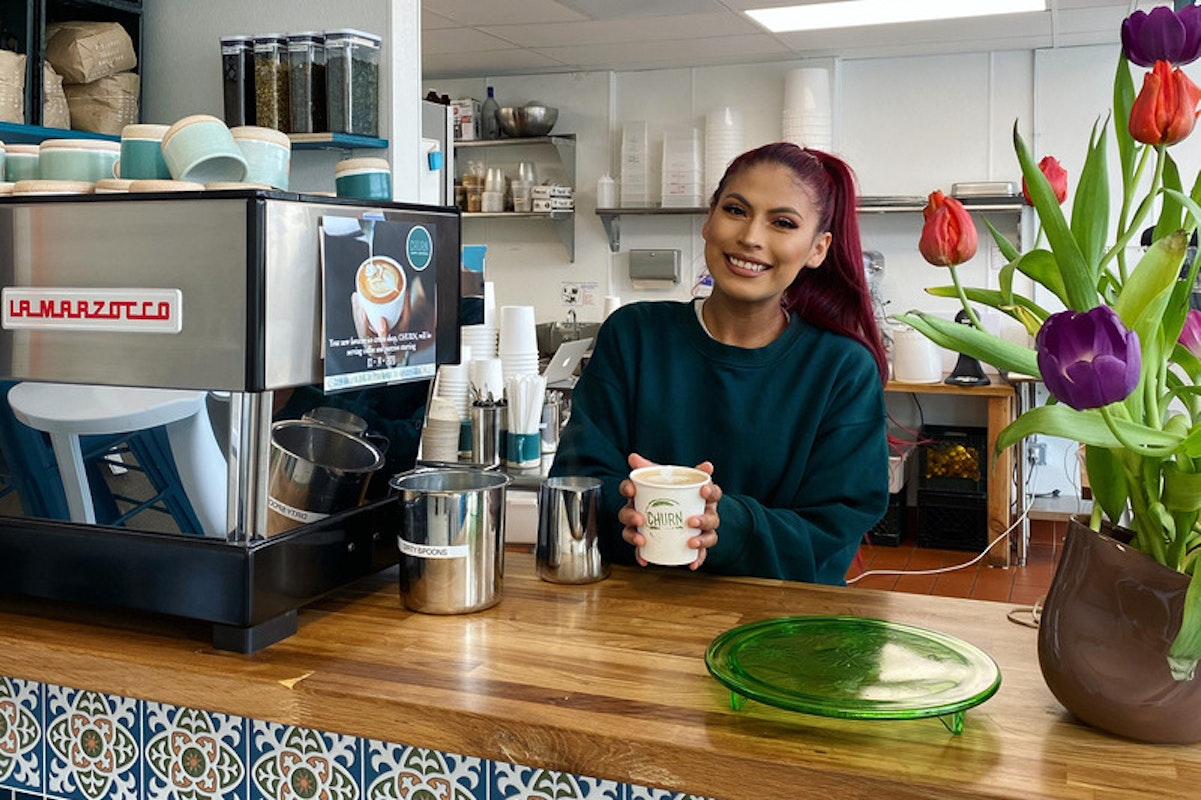 Churn Urban Creamery in San Francisco
By The ComeTogether Team |
Part 3: Coffee (and Ice Cream!) In The Time Of COVID Series
Making Thrillist's list of , Churn Urban Creamery is not only a formidable player in the city's scoops game but a great spot for a coffee break, too. Farmer's Blueberry Swirl, Matcha Stracciatella, and Salted Pretzel Caramel? Yeah, count us in.

With so many small businesses across the country experiencing economic and emotional impacts due to COVID-19, we interviewed founder Rica Sunga-Kwan to find out how Churn Urban Creamery in SF's Portola neighborhood is persevering during the pandemic.
What is the current status of your business?
The shop was closed because of a COVID contact scare. It was a bit of an over-reaction, but we'd always rather lean that way. We're reopened with limited staff. Temperature checks are pre-shift, and if you clock over 100.4°F, you need to leave immediately, contact the owners, and quarantine for two weeks before you can return to work.
We have hand-sanitizer and sanitizer wipes all over the space. The store is wiped down every half-hour. We have plexiglass between the store entry and the customer, and we've got wipes out for customers to wipe down the table area.We also sanitize tables on an hourly basis, more on busier days. And always after someone has sat down.
We changed our times and dates to make sure we hit the busy periods. Weekdays are shorter, weekends are longer. We've landed on those hours after running the last few months to see what works best. We've also gone into the Outer Sunset Farmer's Market, and that's helped a ton. We're looking into adding more Farmer's Markets. We'll be working on the weekends.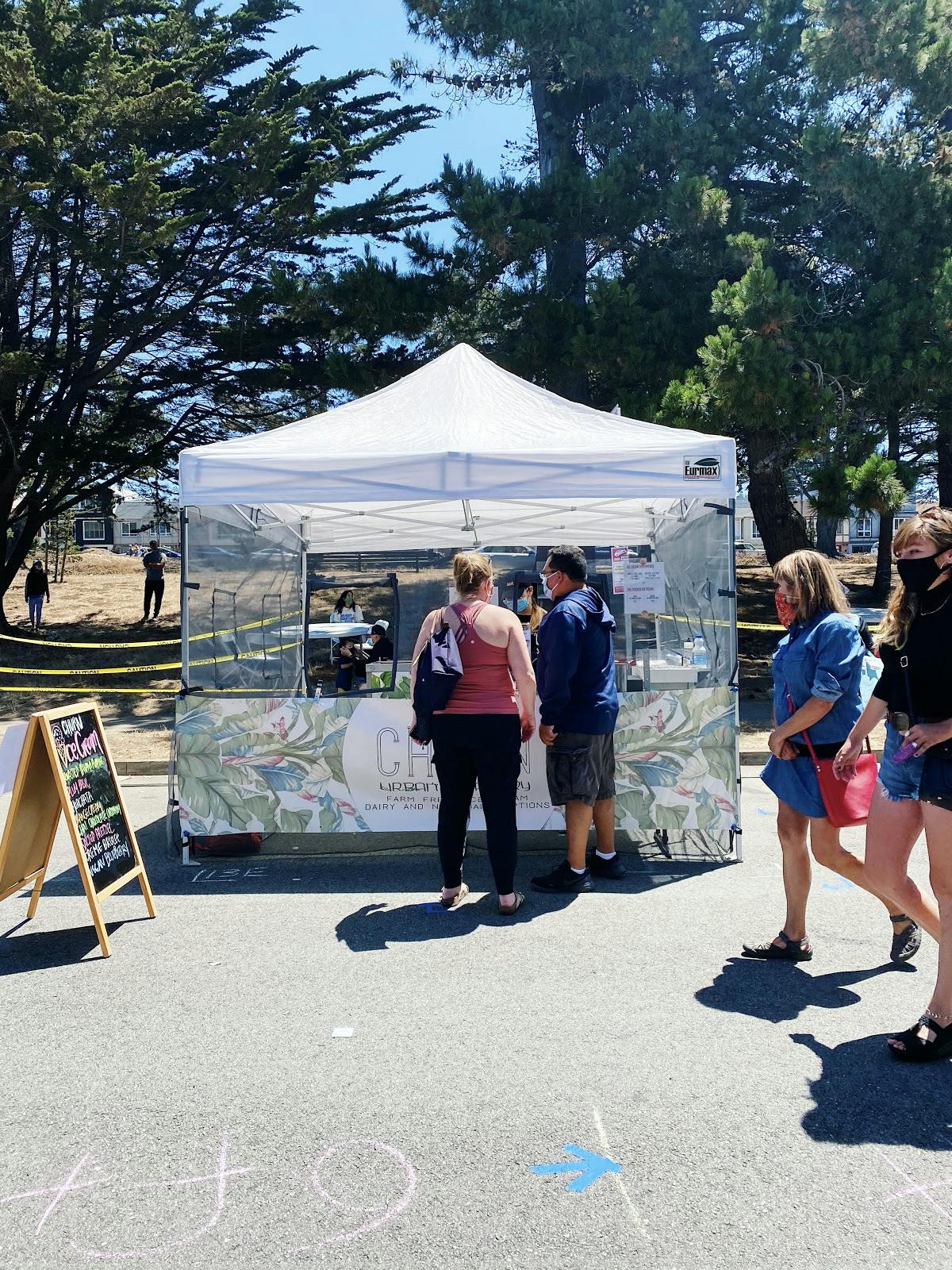 What is your payment process like?
For the first couple months, we were only doing online orders. Since June, we've been doing walk-up orders. And while we know it's frowned upon, we're not taking cash. Since we've got one person taking orders, and scooping, we just don't feel like it's safe enough yet. We've set up a plexiglass window at the store, no customers are allowed into the store currently. Not even in the bathroom, as we're not ready. We've also partnered with our neighbor, FDR, and taken three parking spots to make a parklet to provide outdoor seating for our guests.

What impact has this pandemic had on you and your staff?
Oh man, where do we start? Do you have three hours? In the positive, it's brought the staff together a lot more. We're doing weekly meetings where everyone gets 30 minutes to talk about their week, how they're doing, and then go over any changes to process and procedure for the week. So that's a positive.
There are so many negatives, though. We can't do as much with the space because there's only ever one or two people per shift. I feel like we're constantly changing our business model week to week, and customers keep changing buying patterns. The uncertainty is very nerve-wracking as a business owner, but I'm sure for the staff, too.
Does your cafe require masks? Anything you'd like to share on what that policy looks like and what the response has been with your customers?
Yes, we require masks, and we're all wearing them ourselves. As far as the staff, they're great with etiquette. When you're dialing in a recipe, you've got to take your mask off. If you want to spit out an espresso, everyone gives distance, and they hover their face as close to the trash/sink as possible. Being very specific with staff about how best to do that has been helpful.
Customers were a bit difficult with wearing masks at the beginning, but now they're pretty acclimated to it. The staff does enforce the mask rules. The staff deals with a lot of attitude, less now. Rica has had to ban customers.
What is your community doing to help? Are you seeing more support online or in person?
In the very beginning, there was a huge outpouring of community support. Tons of folks bought gift cards in the first couple weeks when we were closed. As things reopened, people placed huge online orders. Bigger than we'd ever seen. The tips for the staff were also generous. There were articles, Nextdoor, and Facebook posts spreading the word about our reopening, and our new Marketplace options—we sold flours, produce, and toilet paper...items that were hard to find in grocery stores at that time. And when they came to pick up their Online Orders, they thanked us, and motivated us to keep going.
As things have gone on, support has slowed a bit. Now that we're in August, they're less focused on saving businesses. Folks are more preoccupied with their own troubles, kids not going back to school, or going back to unsafe schools, some people are laid off or furloughed. The support for small businesses has taken a bit of a backseat to their own personal issues.
Anything else you'd like to share?
What we have learned is shifting to an online model is the future. It's forced many businesses like us to learn to become expert digital marketers, to think outside the box, and to try anything and everything. Our goal in the next six months is not just to survive, but to innovate. Being an ice cream shop turned cafe/bakery/marketplace is part of that innovation. We're looking into providing more to go food items like breakfast sandwiches, toasts, and mini-pies.
This can be very stressful or it can be freeing and creative. For me, it's both, depending on the week. But the focus needs to be on the customer, on their pains and needs. Because at the end of the day, that's the basics of marketing.
Thank you, Churn! Drool over their flavors at churnsf.com and make sure to follow @churnsf on Instagram.